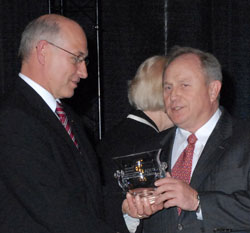 Deere and Company was honored for its support of the American Soybean Association at the organization's annual banquet last week in Tampa. Accepting the award from ASA President Rick Ostlie (right) on behalf of John Deere was Don Borgman, director of Agricultural Industry Relations for John Deere's North American operation.
Deere partnered with ASA on the "Reach for the Stars" contest to help U.S. soybean producers learn more about precision ag systems and how they fit into all types of operations. ASA announced the winners of that contest during the 2007 Commodity Classic last week.
ASA and John Deere will stay in contact with each winner during the year to learn about their experience with installation and utilization of their new precision ag system. ASA First Vice President John Hoffman, a soybean producer from Waterloo, Iowa says, "We are eager to learn how precision ag has brought more productivity to their farms, and will share this information in the future on ASA's Web site www.SoyGrowers.com."
Earlier this year, ASA mailed a packet of precision ag information to more than 1,400 growers in soybean production areas across the country. ASA and John Deere AMS personnel will also hold a series of regional grower education meetings this summer and next winter. Date and cities for the summer meetings will be announced in June.