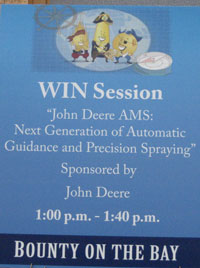 One of the WIN Sessions at the Commodity Classic on Friday was focused on John Deere's Swath Control Pro for planters. The presentation, given by Kyle Collins with John Deere's Ag Management Solutions, explained to the group how the Swath Control technology can allow for more use of seed to help growers improve planter performance for optimal plant emergence and potential yields.
"We introduced Swath Control Pro at Commodity Classic last year for sprayers," said Collins. "It's been getting a lot of excitement ever since. Growers just like how it's saving them money."
The same concept that Swath Control Pro uses with sprayers to turn boom sections on and off, based on GPS information using GreenStar 2 Rate Controller technology, will now be able to turn planter sections on and off to help growers minimize double planting in headland areas. Collins demonstrated what the system looks like with a side-by-side video showing the planter in the field and the layout of the field on the display monitor as it went through and automatically turned off over areas the grower did not want to have planted and then turning back on.
The system can be adapted to John Deere, Kinze and Deere-Bauer-built planters.
Swath Control Pro for planters will be tested on select farms throughout North America this season to be available for purchase in time for the 2008 planting season. Find out more here – Swath Control Pro.