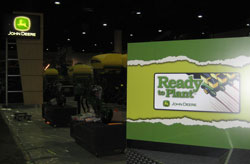 The John Deere booth is getting set up at the 2007 Commodity Classic, preparing for thousands of growers from around the country to visit.
The booth features all of the very latest John Deere precision equipment and plenty of company officials on hand to meet with growers and let them know how they can make their jobs faster, easier and more efficient.
Stay tuned for more from the show!