Fifteen lucky soybean growers from around the country will soon receive a premium-level precision ag system worth more than $20,000 to use on their operation for the 2007 growing season as the winners of the "Reach For The Stars" contest, a joint effort of the American Soybean Association and John Deere Ag Management Solutions (AMS). More than 400 growers registered for the contest and winners were selected through an independent process of grower experience and geographic diversity. The winners were announced today at the 2007 Commodity Classic in Tampa, Florida.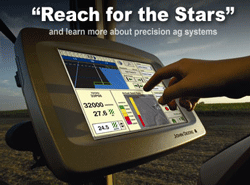 The 15 winners are:
Neal Kuhn- Manilla, Indiana
Curtis Clayes- Delmar, Iowa
Peter Kramer- Gibbon, Minnesota
Ted Vinson- Fithian, Indiana
Chris Von Holten- Walnut, Illinois
David Oberbroeckling- Davenport, Iowa
Alan Meadows- Halls, Tennessee
Scott Chesnut- Boone, Iowa
Luke Smith- Rochester, Indiana
Todd Swanson- Wahoo, Nebraska
Roger Godwin- Pelham, Georgia
Ronald Tersteeg- Bird Island, Minnesota
Colin Dutenhoffer- Aberdeen, South Dakota
Dale Seyfred- Galien, Michigan
Nathan Wright- Harrisburg, Arkansas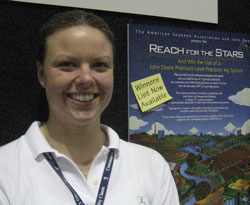 The contest prize package includes use of a GreenStarTM AutoTracTM Assisted Steering System with an AutoTrac Universal Steering Kit, a StarFireTM iTC receiver, and a John Deere SF2 signal activation; a GreenStarTM 2 System, which includes a GreenStar Display 2600 and preloaded GreenStar Basics software; and GreenStar Apex Farm Management Software. After the program ends, qualified participants will be offered an opportunity to purchase the entire system, or just the components they want to own, at a greatly reduced price.
John Deere AMS representative, Laura Robson talks about the program and the winners:

Laura Robson (3 min mp3)