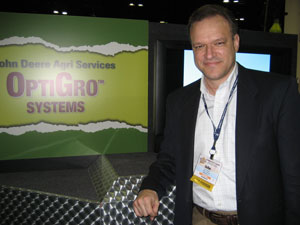 Corn and wheat growers visiting the 2007 Commodity Classic this week can find out about a new system that can help them optimize yields while improving use-efficiency of nitrogen and other inputs.
It's called the OptiGro System, and according to John Mann, Vice President of Strategic Marketing for John Deere Agri-Services, it has already been used successfully by cotton growers.
"OptiGro is a system that we deployed a couple of years ago in the mid-South Delta in cotton," Mann said. "It's actually taking an image of the growing crop while it's still growing and then being able to make adjustments to that growing crop in the same season."
Research in seven states over the past four years has shown that corn plants indicate nitrogen needs throughout the growing stage and using the OptiGro system to indentify those needs in season could save growers up to $20 per acre in nitrogen costs.
"In the case of corn, it's typically a nitrogen application made right before the crop goes in the reproductive stage," says Mann. "In the case of wheat, what we're kicking off is crops as they break dormancy putting on this at a variable rate, rather than spreading the whole field."
Find out more about OptiGro at www.JohnDeereAgriServices.com and
listen to an interview with John Mann here.

John Mann (3 min mp3)