Dennis Daggett, Senior Vice President of John Deere Risk Protection (JDRP) was a busy guy at the Commodity Classic trade show talking to growers about how new reports from Apex Farm Management software can help them capture important crop information and data to simplify the reporting process for crop insurance.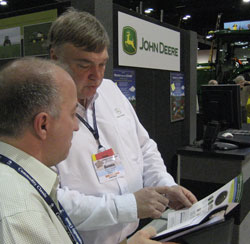 "John Deere Risk Protection is a new group to John Deere," said Daggett. "We are offering multi-peril and crop hail insurance products, delivering crop insurance to the American farmer."
By using Apex software to generate acreage and production reports growers can have accurate, detailed records on planting and seeding information, harvesting data including acreage, yield and moisture content literally at their fingertips.
"The equipment is gathering all the data, all they have to do is pull their cards and download the data and their reports are done," Daggett said. "The data that is collected is accurate."
Daggett says crop insurance allows a farmer to manage risk better and by using the latest technology to gather and store vital information into complete reports can ultimately enhance a producer's revenue stream and protect against potential losses.
Find out more about John Deere Risk Protection in this interview with Dennis Daggett.

Dennis Daggett (4 min mp3)