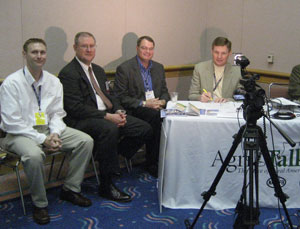 AgriTalk was live here in Tampa, Florida on the first official day of the Commodity Classic interviewing a number of representatives.
Pictured here with AgriTalk host Mike Adams (right) from left to right are Kyle Collins, John Deere Ag Management Solutions; Bob Callanan, American Soybean Association; and Barry Nelson with John Deere. AgriTalk's opening segment from Classic featured Barry and Bob announcing the winners of the "Reach for the Stars" contest; followed by Kyle talking about John Deere's Swath Control Pro, which was introduced one year ago at last year's Commodity Classic.
I also interviewed Kyle about Swath Control Pro – what it is and what comes next for growers.

Kyle Collins (3 min mp3)