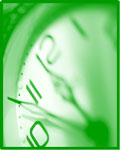 In addition to posting regular information on precision agriculture here John Deere is also sponsoring a regular audio program called the Precision Ag Minute. Besides airing on radio stations we'll be posting the program for you to listen to here as well. The program is being produced by Peter Shinn at Brownfield.
The latest program is about the benefits of using the AutoTrac Universal Steering kit. Peter interviewed Brian Allenbaugh, Arkansas producer, about how he's been able to use the system on his farm. He describes how the flexibility of the system allows him to use it with different pieces of equipment. You can listen to the latest installment here:

Precision Agriculture (1 min mp3)
If you're interested in an online calculator that can be used to calculate your return on investment in an AutoTrac Guidance System then you can find one right here.