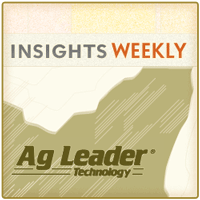 Todd Reed grew up on his family's turkey farm near Waverly, Neb. He started working part-time during the school year in 1998 and began full-time on the farm with his two second cousins and their fathers in 2005. He studied Mechanized Systems Management at the University of Nebraska-Lincoln and went on to earn his Master's Degree in the same field with an emphasis on precision agriculture and variable rate systems.
He currently does precision ag consulting for his family's dryland corn and soybean rotation farm, writing variable rate planting prescriptions and fertilizer prescriptions to yield analysis, using Ag Leader's SMS Software. Though he doesn't own or rent any land of his own, he plays a vital role in the farm's management decisions regarding data analysis and field-level research in terms of breaking down yield by hybrid by soil type, by field, by population, by nitrogen rate – to evaluate the decisions the farm makes.
He explains how they entered the world of precision ag. Listen to Reed explain
Todd says precision agriculture is vital to their operation and explains what kind of return they saw on their investment the first year. Listen to Reed explain
He says the technology allows them to reduce overlap, reduce driver fatigue, reduce injury to the crops and save on chemical application. Tune in again next week as we hear more from Todd about the benefits to precision agriculture products from Ag Leader.
Become a fan of Ag Leader on Facebook today, and get the latest precision ag videos on the YouTube channel. For more information about Ag Leader products and services, or to visit the blog site, go to www.agleader.com.