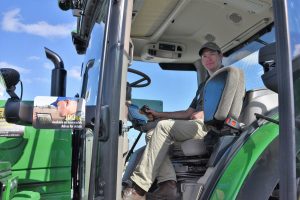 John Deere showcased new features available on 6R Series tractors at the 2018 Farm Progress Show.
"The main new feature for 6Rs this year is this new CommandPro multi-function control lever we have on the tractor," said Lyle McMillan, product marketing manager. "And really what that is, is giving operators the ability to control their tractor and their implement all in the palm of their right hand, within fingertip reach."
McMillan said the new lever increases efficiency and operator comfort, with lots of technology built in. Operators can configure 11 different buttons to suit the activity they are trying to accomplish.
"When you reconfigure these 11 buttons on the CommandPro, you can save them in the display and then bring them up whenever you need. For instance, if you have a certain set of buttons that you want to be configured for baling, you can save that profile for baling, and then you can retrieve it at any point in the future if you want to. Or, you can save your settings according to operator if you have multiple operators running this machine."
Traditional controls are still available if that's what an operator prefers. Other new features on the 6R include standard JD Link, as well as larger hydraulic pump and variable ratio steering on some tractors.
Listen to Chuck's interview with Lyle here: FPS18 Deere 6R series updates interview with Lyle McMillan