The 2012 Commodity Classic was a major record-breaker.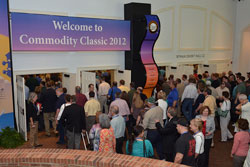 Final attendance at the event surpassed all previous turnout records with a total of 6,014 attendees, up 25 percent increase from last year's record of 4,826 attendees. Once again, farm families represented over half of the participants, with 3,505 growers, spouses and children attending.
"We broke records in every category," said Commodity Classic Co-chair Martin Barbre. "However, the most exciting number was beating last year's record of first-time attendees by 48 percent. It's very gratifying to see that Commodity Classic's appeal continues to grow."
This year's show also experienced the highest number of exhibitors ever. The 963-booth trade show was sold out with a waiting list ready to take advantage of cancellations. There was also a record number of media attending the event – 156 total, compared to the previous record of 145 last time it was in Nashville in 2008.
Commodity Classic is presented annually by the National Corn Growers Association, the American Soybean Association, the National Association of Wheat Growers and the National Sorghum Producers. Next year, the event will be held February 28 to March 2 in Kissimmee, Fla.
2012 Commodity Classic Photo Album
Coverage of the 2012 Commodity Classic Show is sponsored by John Deere