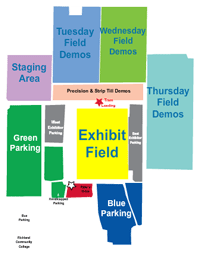 Guess where the ZimmComm team will be this week. Yep, it's Farm Progress Showtime!
This is the layout of this year's show. By Thursday afternoon we should have photos from all over the place. We're on our way today to get set up and check things out.
You can expect lots of story posts this week and we have to thank all our sponsors for making our attendance possible. You can see them below. We love you sponsors!
Besides getting show updates right here you can get them on your phone with the AgWired App and the Farm Progress Show is offering audio updates via Max Armstrong. So, there's no excuse not to know what's going on even if you can't be there! See you from the show.
Precision.AgWired.com Coverage of the Farm Progress Show is sponsored by John Deere FS GreenPlan Solutions AgLeader