Agritechnica 2011 is still over six months away, but already the world's largest agricultural equipment and machinery show has ten percent more exhibitors than they had at this time for the last show in 2009.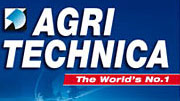 Organizer DLG (German Agricultural Society) says 1,900 exhibitors from 44 countries are booked for Agritechnica 2011, to be held in Hanover, Germany November 15-19.
"We see growth in both domestic and international exhibitor numbers", explains Agritechnica Project Manager Freya von Rhade. "Participation from Denmark, France, Italy, the Netherlands and North America in particular is conspicuously higher than it was in 2009." Over 300 exhibitors are planning to present their products and services at Agritechnica for the first time.
Show organizers say the current positive mood among Europe's farmers is leading the upswing in exhibit reservations. The last exhibition two years ago was attended by 2,300 exhibitors from 46 countries. More than 355,000 visitors, including 80,000 international visitors, came to Hanover to gather information about new and further developments in agricultural machinery and equipment.