There are lots of precision agriculture and technology sessions on tap for the second AG CONNECT Expo that starts Friday at the Georgia World Congress Center in Atlanta.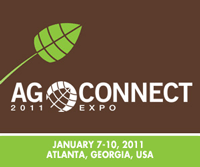 There will be a lot more people at this second event than there were at the inaugural event in Orlando last year and there will be even more educational opportunities – including breakout sessions, the Progressive Farmer Innovations Theater, new Town Hall forums, and Farm Journal Media presents.
Breakout sessions that might be of interest to the precision-minded farmer on Friday include Sustainability at 9:30 am and Implementing an On-Farm Research Program for Your Farm by Harold Reetz at 1:30 pm.
Saturday sessions include The Economics of Irrigation Efficiency, Is RTK Right for My Operation? and Balancing Crop Nutrient Needs, Economics and Environmental Concerns -all from 8-9 am; Smartphone Technology: Unleashing Agriculture at 9:30; and The Benefits of Center Pivot Irrigation at 1:30. Sunday highlights The Benefits of Drip Irrigation at 9:30 am, and sessions on Making Your Farm Wireless and No Till, both at 1:30. Two final sessions on Monday morning will answer the questions How Does Your Farm Measure Up? and When Is the Best Time to Buy Your Fertilizer?
Precision technology topics featured in the Innovations Theater line-up inclued Vision for 2020: Does Precision Farming Pay? featuring a panel of farmers who are making precision ag pay in their operations at 1 pm on Friday and The Best of All Around the Farm: How to Save Time, Money and Labor on Sunday at 2:30 pm.
There is so much more I can't get it all in one post – check out the list of educational sessions here or use the handy search function on the AG CONNECT website to create a customized agenda based on your own personal interests.