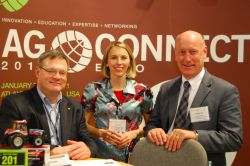 The AG CONNECT Expo team of Rich Jefferson, Sara Truesdale-Mooney, and Charlie O'Brien with the Association of Equipment Manufacturers (AEM) were at the recent National Agri-Marketing Association annual meeting in Kansas City to promote the second expo coming up next January in Atlanta.
Sara is AEM's Show Director and she says they were happy with the very first AG CONNECT expo held this past January in Orlando. "We are very pleased with the results and it really exceeded all of our expectations for a first-time event," Sara said in an interview with Agwired's Joanna Schroeder.
The next Ag Connect Expo will be held in Atlanta, Georgia, January 7-10, 2011 at the Georgia World Congress Center in downtown Atlanta. Sara reports that the educational program is taking shape and it will be bigger, better and have more offerings. AEM is also planning to expand the Innovations Center as well as adding days and sessions on the show floor as well as more seating. Sara noted that all the sessions were full this past January. Sara says they are also planning to have a broader scope of exhibits and more floor space.
Sara also notes that Ag Connect Expo has been selected to participate U.S. Department of Commerce's Buyer Program. Approximately 35 shows are selected for the program each year, and this will be the second year Ag Connect has been selected.
More information about AG CONNECT Expo 2 is available now on-line at www.agconnectexpo.com.
Listen to Joanna's interview with Sara in the player below.