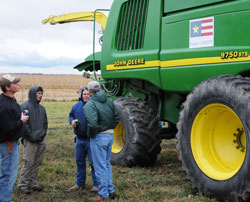 Utilizing precision farming equipment when you're harvesting corn will pay off even more once you can start harvesting corn cobs for cellulosic ethanol production. That's what I learned at POET's Project LIBERTY field day in Emmetsburg, IA this week. POET is working with ag OEM's like John Deere to develop harvest equipment to collect cobs for the plants they plan on building in the near future. They plan to begin building a cellulosic ethanol production component of their Emmetsburg plant in late 2009 with production expected to begin in 2011.
Of the current options for harvesting/collecting the cobs, Deere is working on the corn cob mix kit (CCM) option. It's basically an attachment to the combine according to John Deere's Barry Nelson, who was attending the POET Project LIBERTY field day.
Barry says that this will allow farmers to produce up to 11 percent more ethanol per acre. That's a pretty good gain in efficiency. He says they're also looking at other equipment options including a special cart or new combine.
You can listen to my interview with Barry here: [audio:http://zimmcomm.biz/poet/poet-liberty-08-nelson.mp3]