"It's our first dish in Thailand that we used potatoes," said Kittichai of the flavorful Thai recipe. Blair Richardson, president and CEO of Potatoes USA announced the winner during the luncheon on Thursday. Spud Nation Throwdown winner announcement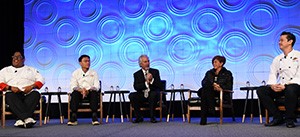 Kittichai's formidable competitors in the cook off were Tony de Graaf of Taiwan who made Potato Involtini with Taiwanese Sausage; Doris Goldgewicht of Costa Rica with her Potato Picadillo; and Wandy Robles from the Dominican Republic who prepared Potato Mofongo.
All of the chefs sat down on stage Thursday morning with The Supermarket Guru Phil Lempert to discuss global foodservice perspectives. Listen to their conversation here: Potato Expo chef panel
[content_band padding_top="8px" padding_bottom="8px" style="text-align:center;color: #333;" bg_color="#BEC0B0″ bg_pattern="http://agwired.com/wp-content/uploads/2014/04/AW-sponsor-bg.png" border="all" inner_container="true"] Coverage of the Potato Expo is sponsored by

[/content_band]

The second annual Spud Nation Throwdown cooking contest was held at the 2017 Potato Expo last week, featuring international chefs preparing dishes made with potatoes from the United States. The winner of the $2500 Top Spud prize was Ian Kittichai of Thailand who prepared Beef Massaman Curry.