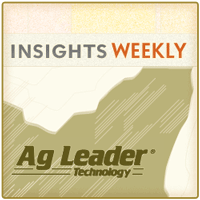 If you've been keeping up-to-date with the Precision.AgWired.com blog, then you've read about how SMS software from Ag Leader can assist you with verifying harvested acres when it comes to crop insurance reporting.
But this year is unlike any normal year and we don't have to tell you what you already know. It's dry. And if it's raining in your neck of the woods, it's coming at the wrong time. So knowing you have to work with the hand you're dealt, what tools do you have that can make the harvest data you gather really worth your while?
First, Aaron Friedlein, Ag Leader product manager, gives us a 30,000-foot view of this 2012 harvest season.
Listen to Friedlein explain
Friedlein says looking back at the data from his farm in northeast Iowa, there were areas or spots that in year's past, he really didn't know what caused a lower-yielding area to happen. Now looking at the data this year when he knows he had drought stress corn, he's starting to answer old questions with this year's data.
Listen to Friedlein explain
SMS can quantify the results from what you did harvest and maybe answer some questions you had from years past; and going forward, especially if you're looking at variable-rate prescriptions, you may change your methodology knowing where you had high or low yields during dry years.
Become a fan of Ag Leader on Facebook today, and get the latest precision ag videos on the YouTube channel. For more information about Ag Leader products and services, or to visit the blog site, go to www.agleader.com.